Why reuse materials and resources?
It makes sense in every way to reuse the resources we already have instead of throwing them away and buying more. Most of us are aware of this when it comes to recycling our cans and bottles.
But we may not be aware of how many reusable resources we may already have in our gardens. Here are just a few ways that you can save money, resources and landfill space by reusing in your home landscape.
Reusing Concrete
An old, broken sidewalk can have new life in several ways:
The pieces can be removed and then re-arranged to form a walkway that resembles flagstone, or mix the concrete pieces with other reused materials such as bricks for a unique and eclectic walkway.
Use the concrete pieces to create a steppingstone path in a garden area where a full walkway is not needed.
Take the concrete pieces to a recycler to be crushed into tiny pieces that can be reused as gravel underlayment for any walkway or patio, whether made from new or reused materials. In Harmony uses this type of recycled concrete for much of its hardscape construction.
Reusing Wood
When buildings are demolished carefully instead of being bulldozed, their wealth of wood can be reused rather than wasted in a landfill.
Larger beams can be used as the structural supports for gorgeous arbors, pergolas or garden sheds.
Smaller lumber can be used for the crossbeams and decorative pieces for these garden features or for a garden trellis.
In Harmony will gladly use reclaimed lumber to construct "new" garden features for you.
When wooden fences are being repaired or replaced, the pieces that are removed can be reused after cutting off any decayed sections.
1 x 6 boards are the perfect width for building birdhouses.
4 x 4 posts (untreated only) are the perfect size to drill holes in for orchard mason bee houses, which greatly enhance fruit tree pollination.
Wood chips from an arborist's tree trimmings are a fabulous mulch material for your garden. They help prevent compaction, conserve water in the soil and provide micronutrients for your plants as they slowly decompose. And they're usually free for the asking!
Reusing Other Materials
Gardeners with well-established stands of bamboo usually have to do annual thinning of the canes, many of which are large enough to be used as stakes for berry crops, tomatoes, beans or peas or for small trellises and obelisks.
Compost is one of the best examples of a recycled material. When you purchase compost from a local retailer or make compost in your own bins, you become part of creating an ongoing, renewable resource for your garden soil.
References & Resources
The following references will provide more detail on the benefits of reusing resources in your landscape. Or call In Harmony to assist with your design and installation at 425-486-2180.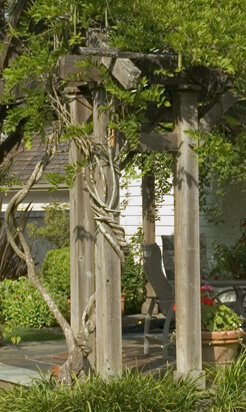 More About Our Services