Do you spend too much time maintaining your garden and not enough time enjoying it?
At In Harmony, we believe in designing and installing landscapes that will look good over the long term without requiring a lot of maintenance. A sustainable landscape is a beautiful landscape that will last and thrive for many years.
You should have more time to spend outdoors with family and friends, or relaxing with a cool drink and a good book. Using sustainable design principles can give you time to do that.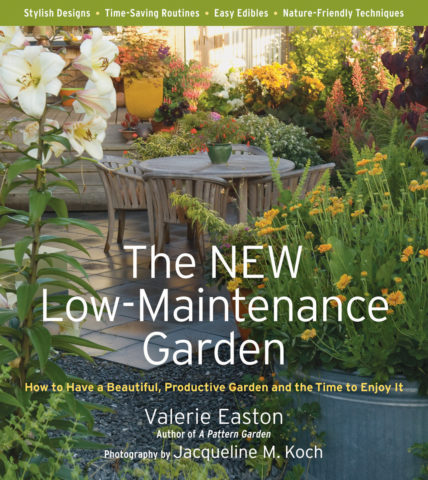 A few years ago, garden writer Valerie Easton wrote a book called The NEW Low-Maintenance Garden. Here are some of the book's principles, along with our perspective on creating a low-maintenance landscape.
Design with maintenance in mind.
Think first about design elements, such as decks, patios, arbors and pathways. These architectural elements define and shape space. They create a framework for people to enjoy the outdoor space. Some simple garden designs have few plants but focus on living spaces.
Our landscape designers will listen to your goals and desires for how you would like to use the landscape. They will use those goals to develop a design that will work well for you and your family now and in the future.
Invest in infrastructure.
High-quality, durable materials such as cedar, metal, stone, gravel and concrete are long-lasting. Flimsy materials will wear out and need to be replaced. Sturdy materials will bring pleasure for many years.
Cheap materials that will need to be replaced in a few years are not only a hassle for you, they also have a negative impact on the earth. Throwing things away doesn't fit with sustainability principles. If your budget is small, develop different parts of your landscape over time, doing each one well.
Use plant structure and form to define the garden.
Think shape and size first. Trees and hardy, reliable evergreens should form the backbone of the landscape. You can use perennials, shrubs and grasses to fill in spaces. Flowers and annuals should be a last consideration.
We carefully select plants that don't require chemicals to thrive in our Northwest environment. Then we place them where they will thrive and where they will have room to grow without requiring much pruning. We also place lawns where they are appropriate. These work together to create a low-maintenance landscape.
Keep it simple.
"Good design is all about making the choices that will simplify your garden," Easton said. A strong design reduces maintenance more than any other factor.
Choose a few shapes, colors, materials and plants that please you. And repeat the same materials and plants over and over again. This will unify the garden and make it easier to care for.
When a garden isn't overcrowded, each detail stands out. A beautiful specimen tree, a sculptural urn, a boulder with colorful striations, a stone fountain or bench will have more impact if it is singled out and treated as a piece of art.
You can find out more about our approach to designing landscapes in this video.