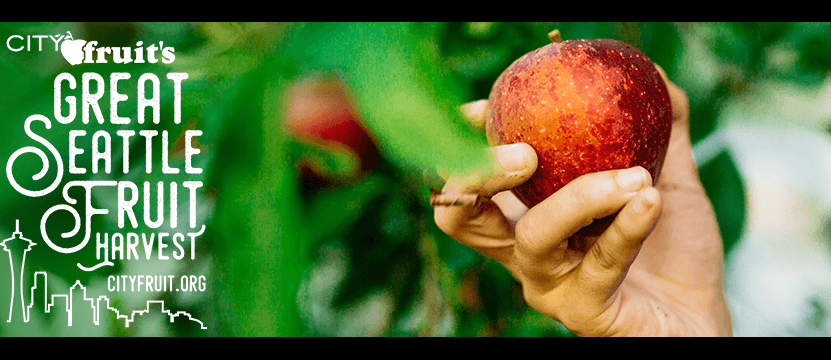 City Fruit wants you—and your fruit trees—for the Great Seattle Fruit Harvest! Every year volunteers and staff collect thousands of pounds of fruit that would have otherwise gone to waste. They donate the fruit to meal programs, food banks and community organizations throughout Seattle. So join in the fun and help people get access to local fresh fruit.
U-Pick Harvest Boxes
Are your trees bearing a bumper crop of apples, plums, pears or other fruit this year? Don't let it go to waste!
This year City Fruit has a new way to participate in the Great Seattle Fruit Harvest: U-Pick Harvest Boxes. It's a pilot fruit collection program that works almost like a reverse CSA. Tree owners collect the fruit, fill the box and schedule a pick-up with City Fruit.
So how does it work?
Fill out the U-Pick Harvest Form HERE to request 1-3 Harvest Boxes.
The City Fruit Harvest Crew will drop them at your home.
After you've harvested, just ping harvest@cityfruit.org and they will collect your fruit.
Since this is the pilot year, City Fruit is focusing only on fruit varieties with longer shelf lives. This include apples, European Pears, Asian Pears, quinces, and kiwis. They will not be collecting fragile varieties such as plums this year.
Volunteer to help with the harvest 
You can help City Fruit get the fruit off trees and into people's hands (and hungry mouths). The harvest is the busiest time of year, and City Fruit would love your help.
Bike Scouts
Knocking on doors, checking out trees, taking notes on whether the fruit is ripe or not and biking your neighborhood.
You're a rockstar fruit harvester or will be one soon! Evening and daytime volunteers meetup and then head out to scout trees and pick fruit in a few neighborhood blocks.
Ride-a-long Harvester
Join a lead harvester in the City Fruit van for a day, a six-hour ride around Seattle harvesting fruit.
Cider Press Helper
Crank the cider press at special events.
Put together a team from your office or organization and work together to harvest fruit. "We-Picks" are sponsored harvest parties at one of City Fruit's adopted orchard spaces.
Visit the Volunteer Portal to sign up.