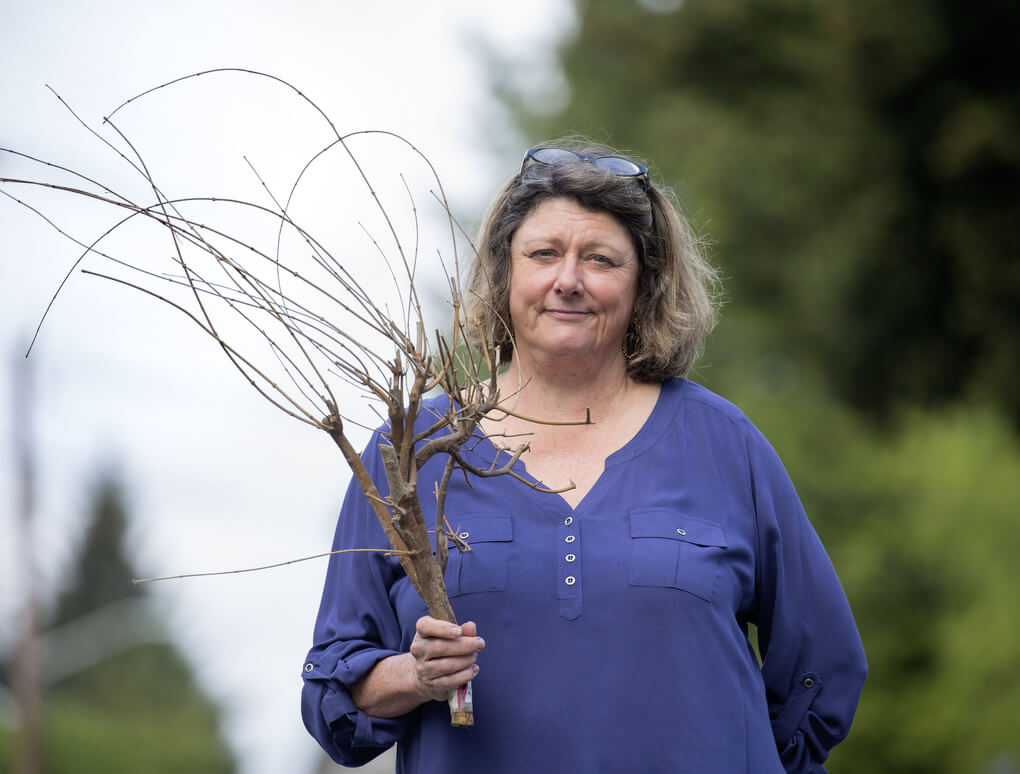 Cass Turnbull, author, tree defender and founder of PlantAmnesty, died on January 26 while vacationing in Hawaii. She suffered a fatal heart attack after a swim. Cass was 65.
We share the shock and sadness of the rest of the Northwest gardening community at the loss of Cass, a funny and charismatic force for nature.
"Cass was an inspiration for many people, including us at In Harmony," said co-owner Ladd Smith. "When Mark and I wanted to start a business focused on plant health care instead of pesticides, she strongly encouraged us, telling us that more companies needed to have that focus."
"She was the power, the energy, the humor and the magic behind PlantAmnesty. We will miss her terribly," said PlantAmnesty on its website.
"A real-life Lorax, Cass Turnbull spoke for the trees," said Linda Mapes in a January 30 Seattle Times article about Cass' life and death.
Cass Turnbull founded PlantAmnesty 30 years ago. The organization's mission is "to stop the senseless torture and mutilation of trees and shrubs due to mal-pruning." The group works to raise awareness of the problem, provide solutions and ensure they are readily available, and "engender respect for plants." Among the group's activities are classes (in English and Spanish), pruning guides, videos, a referral service, a pruning hotline, a Heritage and Notable Tree program and more.
Cass wrote two books, including Cass Turnbull's Guide to Pruning, now in a third edition. She was a frequent lecturer to parks departments, school districts, community clubs, commercial landscape groups, flower and home shows, and industry seminars, according to Plant Amnesty.
In more recent years, Cass became an advocate for the protection of trees and open space. She founded TreePAC, "an independent Political Action Committee in defense of the urban forest." The organization writes emails to decision makers, supports candidates who support trees, uses mass media to raise awareness, attends meetings and takes other actions. In the process "the rabble [is] raised and feet are held to the fire," according to TreePAC's website.
In honor of Cass Turnbull, here is a link to PlantAmnesty's YouTube channel, which contains almost a hundred videos about pruning. Most of them feature Cass. We hope you will watch some of them and learn how to keep your trees and shrubs healthy and attractive. And please share the videos with your neighbors and friends. We think it would have made Cass happy to know that her message was still going strong.
Next Saturday, February 4, is PlantAmnesty's Pruneathon at Sky Nursery. Ciscoe Morris will stand in for Cass to answer horticultural questions at the event. Sky will donate a portion of the proceeds to PlantAmnesty. The event runs from 9 am-4 pm, and Ciscoe will answer questions from 2-4 pm.
PlantAmnesty also offers a series of Master Pruner classes and workshops. Next up are roses on February 12 and "The Hackables, Shearables and Untouchables" on March 12.
A celebration of Cass' life is being planned by Plant Amnesty.
Here is a parting thought from U2's "Love and Peace or Else":
"As you enter this life
I pray you depart
With a wrinkled face
And a brand new heart"
We'll miss you, Cass.